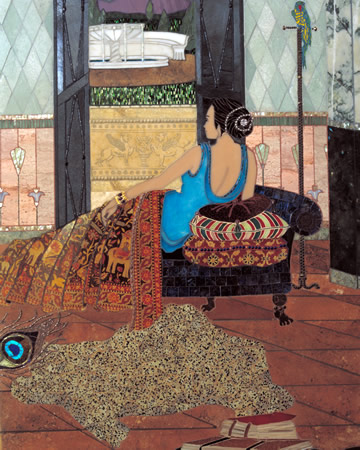 Parlor North Wall









click image to view enlarged photo
Fine Points
A diptych depicts a series of rooms looking out to gardens beyond. In one panel, a woman lounges on a divan stacked with pillows and gazes beyond the filigree topped embossed metal doors to a fountain. On the turquoise and pearl embellished table in the foreground are a tapestry, stack of books and bronze candle holder.
In the other panel, an elegantly adorned woman holding calla lilies stands in a gallery that opens to formal gardens. A staircase leads to a garden folly.
Adjoining the diptych, a third panel features a peacock atop a flowering quince branch.
More Parlor Photos
North Wall • East Wall • West Wall • Table
photos: * Todd Pickering, ** Rebecca Ford